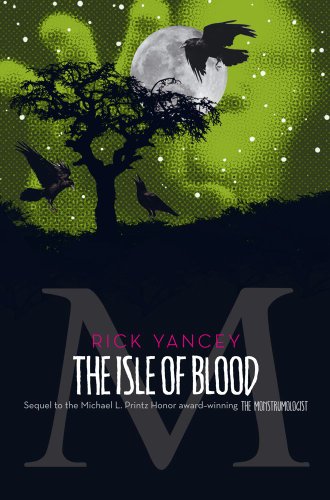 Title:
The Isle of Blood
Author:
Rick Yancey
Genre:
YA horror
Pages:
Hardback, 558
Published:
September 13, 2011
Opening Lines:
"
Everyone has someone
."
"On a quest to find the monster known as the 'Holy Grail of Monstrumology' with his eager new assistant, Arkwright, Dr. Warthrop leave Will Henry in New York. There the boy finds himself living with a real family; not facing midnight vivisections, narrow escapes, or confrontations with monstrosities, human and inhuman. After months go bu with no word from Warthrop, Arkwright returns with the devastating news that the doctor is dead.
"Will doesn't trust Arkwright, and he can't believe—won't accept
—this information. Determined to find Warthrop, he journeys to London in hopes of finding the doctor still alive, knowing that if he succeeds, he will face something worse than all the monstrosities he has seen in his young life. They will go to Socorta, the Isle of Blood, where human beings are used to make nests, where those who are consumed are the lucky ones, where blood rains from the sky."
Thoughts:
Reading these books, I honestly wonder whether they were truly meant for children. They are wonderful and well written books; however, I sometimes wonder if the subject matter and writing style might be too advanced for young adults. That being said, I was extremely excited to find that my local library had this book sitting on the shelves. After reading
The Curse of the Wendigo
earlier last year, I couldn't wait to get my hands on this book! I find them to be thoroughly engrossing and all consuming!
This book picks right up after the events of the previous book. While there is mention of some of the previous characters, the incident in the monstrumarium, seeing von Helrung, and Lilly Bates again, this book appears to stand on its own. As with the other books, this one starts out with a visitor on the doctor's door step. However, this package brings something entirely different to Dr. Warthrop. The contents of the package will cost Will his finger, find Warthrop in an asylum, and the doctor and his young apprentice across the world. Honestly, this book is very hard to describe without giving too much detail away.
When this book opened up, I was surprised to find that Will Henry's voice had definitely aged from the previous book. It was obvious that he grew up some between the two books. I felt that the author did an amazing job expressing that while keeping Will's voice intact. Further, I was also able to fully see that, while the story takes place in his childhood, Will is a man looking back on these experiences from a point of understanding and introspection.
Will's time with Lilly's family is another stark reminder of the life he is living with the doctor and his inability to fully be a child again. I felt it was a bold move by the author. While Warthrop is not physically abusive to Will, he can be seen as neglectful. The contrast between the family life and life with the doctor was really apparent. However, I also felt the author did a good job of showing that Warthrop, in his own right, loves and depends on Will Henry.
I rather enjoyed that Sir Arthur Conan Doyle had a cameo in the book! It was lovely and quite entertaining!
I find Yancey's writing style to be very dense. These books remind me a lot of Victorian authors. Since they are sent in the lately 1800s, I feel this is a very effective way to pull the reader into the period. It also gives it a little more authority. The dense writing, diction, and subject matter makes me wonder whether these are truly young adult books. They all dig deeply into the basest parts of human nature. This one more so than the others. The author peals away the layers and challenges readers to find where the line is between humanity and monstrosity. In a lot of ways, that seems like a hard thing to take on as a teenager. It is hard to watch Will Henry go through many of the things he encounters in this book. I cannot imagine how a young adult would feel reading this book. As an adult, I also feel the "sick" nature of Warthrop and Will's relationship. While I fully understand that Warthrop loves Will, there is a level at which it is completely wrong.
Even though I was wondering thinking through these things while reading the book, I loved every minute of it! For some, the books might be a little too dense and slow getting started; however, they are amazing and well written. I find myself forcing myself to stay awake and read one more page. I am eagerly awaiting the next book, and I hope my local library gets it soon!
Rating:
Currently:
First Days
by Rhiannon Frater

Current Pages:
2546

Current Progress: