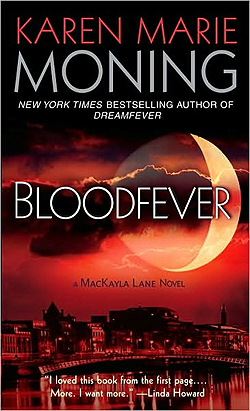 Title:
Bloodfever
Author:
Karen Marie Moning
Genre:
Paranormal romance
Pages:
Paperback, 337
Published:
2007
Opening lines:
"All of us have our little problems ans insecurities. I'm no different."
"MacKayla Lane's ordinary life underwent a complete makeover when she landed on Ireland's shores and was plunged into a world of deadly sorcery and ancient secrets.

"In her flight to stay alive, Mac must find the

Sinsar Dubh

-- a million-year-old book of the blackest magic imaginable, which holds the key to power over both the worlds of the Fae and of Man. Pursued by Fae assassins, surrounded by mysterious figures she knows she cannot trust, Mac finds herself torn between two deadly and irresistible men: V'Lane, the insatiable Fae who can turn sensual arousal into an obsession for any woman, and the ever-inscrutable Jericho Barrons, a man as alluring as he is mysterious.

"For centuries the shadow realm of the Fae has coexisted with that of humans. Now the walls between the two are coming down, and Mac is the only thing that stands between them . . ."


~ Jacket copy

Thoughts:
After really detesting the first book, I was surprised that this one was a lot better. However, according to a lot of negative reviews I read, the series does get better. With that in mind, I was willing to give it a chance.
This book picks up after the adventures of the last book. Mac is still working with Barron trying to find the
Sinsar Dubh
. However, after a few run-ins with a seemingly crazy old woman, Mac learns that she is no alone in the world. There is actually an organization of
sidhe
-seers, and they want her to join. Holding an abbey worth of ancient information and a network of sisterhood over her head, Mac is forced to decide whose loyalties to follow.
After the first book, Mac has grown up a lot. I suppose a near-death experience was enough to rattle her cage. Unwilling to stay in the dark, she spends her time trying to learn as much as she can about the world she has been trust into. However, she still has a lot to learn. She is learning that she is stronger than her had originally thought. She is also coming to terms with the fact that she was adopted.
I admit, I still don't like Jericho Barrons. However, by the end of the book, he has started to grow on me. I understand that he wants to keep Mac safe, but the way he treats her upsets me. It was good to see that she is finally starting to grow a little backbone when it comes to him. Even though he is an asshole, I found myself hoping they would tumble into the sake by the end of the book *sheepish grin*
And Christian! Doesn't it make Mac stop and wonder why a HUMAN has GOLD/AMBER eyes? Doesn't that seem rather strange?
The deeper the book delves into the Fae realm and lore really kept the book going for me. I liked the concept that before Faeries become mad, they drink from The Cauldron to restart their life anew. Also the eating of the Unseelie.
Needless to say, after reading this book, I am actually pretty curious about the next book.
Rating:
☆ ☆ ☆
☆
Currently:
Don't know
Current Pages:
15286
Current Progress:
42/50 books