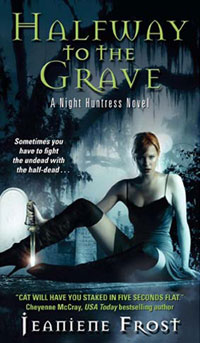 Title

:
Halfway to the Grave
Author:
Jeaniene Frost
Genre:
Urban fantasy/paranormal romance
Pages:
Paperback, 358
Published:
2007
Opening Line:
"I stiffened at the red and blue lights flashing behind me, because there was no way I could explain what was in the back of my truck."
Favorite Line:
Theme Song:
Tears Don't Fall
by Bullet for My Valentine
"Half-vampire Catherine Crawfield is going after the undead with a vengeance, hoping that one of these deadbeats is her father -- the one responsible for ruining her mother's life. Then she's captured by Bone, a vampire bounty hunter, and is forced into an unholy partnership.

"In exchange for finding her father, Cat agrees to train with the sexy night stalker until her battle reflexes are as sharp as his fangs. She's amazed she doesn't en up as his dinner -- are there actually

good

vampires? Pretty soon Bones will have her convinced that being half-dead doesn't have to be all bad. But before she can enjoy her newfound status as kick-ass demon hunter, Cat and Bones are pursued by a group of killers. Now Cat will have to choose a side . . . and Bones is turning out to be as tempting as any man with a heartbeat."


~ Jacket copy

Thoughts:
My hubby got this book shortly after it was published. It has been sitting on our shelves collecting dust. After finishing
Feast of Fool
, I decided to pick this one up. What possessed me to do it, I have no idea. Since he got it, I have been avoiding in like the plague. After being horribly traumatized by Laurell K. Hamilton, I have steered clear of anything that feels as though it could have too much of a romantic element for fear that it would end up worse than a badly written porn. However, I have to admit that Frost really surprised me!
The book follows Cat Crawfield. She struggles with her nature as a half-vampire and cannot find her place in the world. Since she was 16, her mother has made it clear that half of her is evil. Hence, I feel as though Cat hates herself. She is always in conflict with this other half. As a way to purge this perceived evil and to get retribution for her mother's rape, she
becomes a vampire killer.
Admittedly, at points, Cat is beyond stupid. Her adventure in the vampire bar with the roofies was pretty unbelievable. Aside from instances like that, I really enjoyed Cat as a character. Frost did a good job capturing this inner turmoil. Unlike some characters, Cat didn't feel angsty or whiny. I get really tired of main characters who are into bemoaning there life and circumstances. While Cat didn't necessarily deal with her deeply rooted issues, she went out at did something about it: Kicked ass! I can respect that.
I also really enjoyed Bones. It was neat to see a vampire who hunted his own kind. While he appeared to be a vampire bounty-hunter, his reasons behind his profession are very noble. Even though Bone is described as being a blondie, I kept picturing Matt Tuck from Bullet for My Valentine.
When Bones started to get extremely territorial over Cat, I felt that it was a little out of his character, and it made me think Frost was pushing too hard. Timmie was not a believable character to me; however, it was obvious that he was no threat to Bones, so his reaction was over the top. In addition, Cat's response to Francesca also seemed a little out of character. She never showed her territorial side at any other point in the novel, and, like Bone's response to Timmie, it was over the top. I felt her starting to spout sexual comments and accidentally grabbing Bones by the balls (literally) was just in bad taste and unbelievable. I have no issues with vampires being extremely territorial. In fact, it makes sense to me. I just wish she had dropped little tidbits about it before it was shoved in your face, especially with Francesca!
In addition, the special branch of the FBI dealing with paranormal activities was too "Laurell K. Hamilton." I liked the deal that Cat cut with them, but it was way too close to Anita's position. At some level, I accept that urban vampire fantasy might take elements from her books, but this felt a little too close for comfort. However, after starting the second book, it really doesn't upset me. With the a fore mentioned deal, I think that Frost is able to make it her own.
Aside from some of my minor issues, I really enjoyed this book! Last night, I forced my hubby to take me to Hastings, so I could grab the next book in the series. There was no way I was finishing the book last night without the other one waiting beside me :)
Rating:
5/5
Currently:
One Foot in the Grave
by Jeaniene Frost
Pages:
2019
Horror/Urban Fantasy Challenge:
6/24
Current Progress:
7/50 books